Interest charges on federal debt were $28.2 billion in the first 8 months of this year, up 35% from the same period in 2022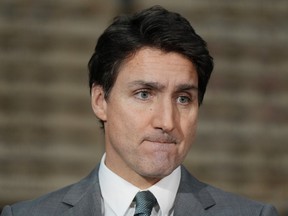 Article content
With his government deeply unpopular and an election due in the next two years, Prime Minister Justin Trudeau may be tempted to spend money. The bond market is getting in the way.
Trudeau's administration is being squeezed by rising debt payments and slowing revenue growth — a challenge for a leader who, in eight years of governing, has never had to contend with an environment in which borrowing was expensive.
Article content
Interest costs have risen substantially since Finance Minister Chrystia Freeland drafted her March budget. The economy is weakening and the path to a so-called soft landing has narrowed. Canada's central bank is warning that its policy rate, already at a 22-year high, may stay elevated for a while, given the current level of inflation.
This combination is a new problem for Trudeau, whose Liberals swept to power in 2015 promising to spend on social programs and infrastructure after years of austerity under Stephen Harper's Conservatives. Interest charges on federal debt were $28.2 billion in the first eight months of this year, up 35 per cent from the same period in 2022, and the pressure is rising to cut back on other spending.

"The federal government needs to reduce its level of program spending, that's clear," Randall Bartlett, senior director of Canadian economics at Desjardins Securities, said. Federal program expenses are expected to equal about 16 per cent of gross domestic product this year — well above the long-term average. "We are at the mercy of international bond markets, and things can turn very quickly."
Article content
Canada is one of only two countries in the Group of Seven with triple-A ratings from both S&P Global Ratings and Moody's Investors Service. Freeland and Trudeau often laud that fact. "We are a government that has always exercised fiscal restraint," the prime minister said Nov. 17. "We have the best debt-to-GDP ratio in the G7." Bartlett said in a Nov. 17 report that it's unlikely Canada will fall from the highest credit rating.
We are at the mercy of international bond markets, and things can turn very quickly

Randall Bartlett
But the government's updated fiscal and economic projections, which Freeland will release Tuesday afternoon in Ottawa, will have to factor in the cost of new industrial subsidies, wage settlements for public-sector workers and new measures to spur housing construction. Combined with a slowing economy, that means there's upside risk to the government's forecast of a $40.1-billion deficit this fiscal year.
The political timing is tough. The Liberals are slumping in opinion polls against their Conservative opponents, who have hammered the government on fiscal matters by accusing of them of stoking inflation with deficits.
Meanwhile, Trudeau's minority government is being propped up in Parliament by a deal with the left-leaning New Democratic Party, which wants to spend. The parties' supply and confidence agreement, by which the NDP agreed to help the Liberals pass legislation, includes a provision that the government should pass a national drug-coverage plan this year.
Article content
But the economic circumstances are throwing Trudeau's progressive priorities into doubt. Canada's government debt and deficit may be far below that of the United States, but its borrowing costs are still driven by the U.S. and global markets. Freeland's spring budget projected a 10-year bond yield of three per cent this year. Over the past two months, it's averaged almost four per cent.

Even as yields have eased in recent weeks — the 10-year benchmark closed Friday at a yield of about 3.68 per cent — the base case isn't for a return to rock-bottom financing costs.
"There is such thing as a debt ceiling, but you don't know it until you hit it," Rebekah Young, an economist at Bank of Nova Scotia, said. "It could get to be more of a punishing environment if they overstep that line more than markets are comfortable with."
Most economists agree Freeland and Trudeau didn't reduce spending quickly enough as the economy burst back to life in 2021 and 2022. A majority of analysts surveyed by Bloomberg say the federal government's spending and immigration programs are complicating the central bank's fight to bring price pressures to heel. Bank of Canada governor Tiff Macklem urged federal and provincial governments last month to start "rowing in the same direction" in the inflation fight.
Article content
Government revenue growth — which had been better than expected this year — is set to slow with the economy. Economists say Canada's GDP will expand just 0.7 per cent next year in real terms, and will decline on a per-capita basis.
Of course, there's a huge amount of uncertainty in that forecast. If higher rates lead to a full-blown recession, the government will need ample fiscal room to support the country's heavily indebted households.
In the last year, transfers from government represented 19 per cent of Canadian household income, the highest level since 1994 outside the COVID-19 crisis.
The largest federal outlays happened during the pandemic: Total spending rose to $623.8 billion in fiscal year 2020-21, as income replacement programs were rolled out for businesses and households as the economy was shuttered multiple times. Those expenditures pushed Canada's debt to GDP ratio above 45 per cent for the first time since 2000.
Related Stories
Provinces throw cold water on optimistic spring budgets

Canada's menacing mortgage math means crisis looming

Bank of Canada deputy says ultralow rates may not return

None
Asked about Freeland's budget update Friday, Trudeau signalled no change in tack.
The document, the prime minister told reporters, will be "a demonstration that we know how to continue to be fiscally responsible while we make investments that are going to grow the economy and support Canadians."
Bloomberg.com