Is your kitchen drawer jam-packed with seed packets you've been gathering for the past few years? If you have been in the home gardening business for a while, chances are you will need a proper place to keep all of your seed collection.
As a home gardener, you probably have a tendency to keep a particular plant for a particular season. For example, geranium is probably your favorite plant for the summer months.
To be honest, there is no need to have a fancy system to keep your seeds organized. With a little bit of ingenuity and creativity, you can make use of a wide range of items for the job. If you want to learn what items work best for your seed-keeping needs, read on about these 27 seed storage DIY ideas and products!
Jump to:

Similar Project:  Top 58 Most Creative Home-Organizing Ideas and DIY Projects
1. Your Kitchen Drawer
The kitchen drawer is the number one spot where aspiring gardeners keep their seeds. As long as you keep them in their original package, the seeds should just be okay!
2. Multifunctional Kit
You can either buy a large-capacity multifunctional kit or use one that you already have. As long as you store it at the right temperature, it should be a great storage idea for your precious seeds.
3. Plastic Drawers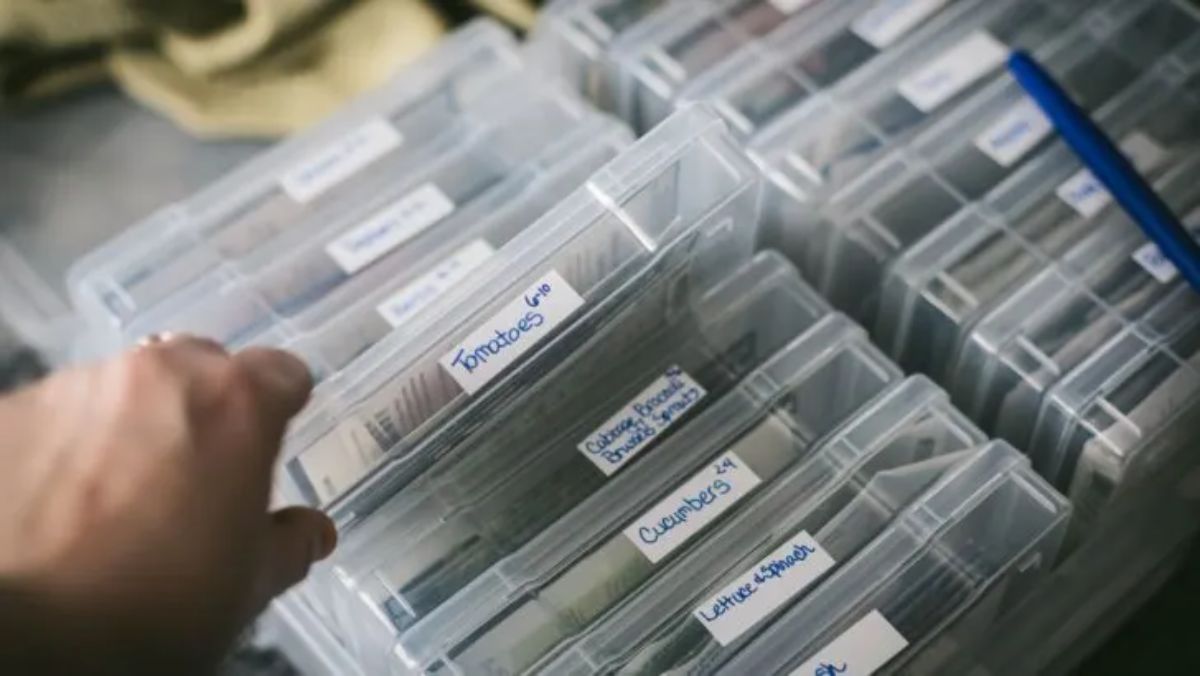 Plastic drawers are also an excellent way to store your seeds because they are durable, practical, and, obviously, affordable! You should get them if you plan to grow your collection.
4. Glass Jars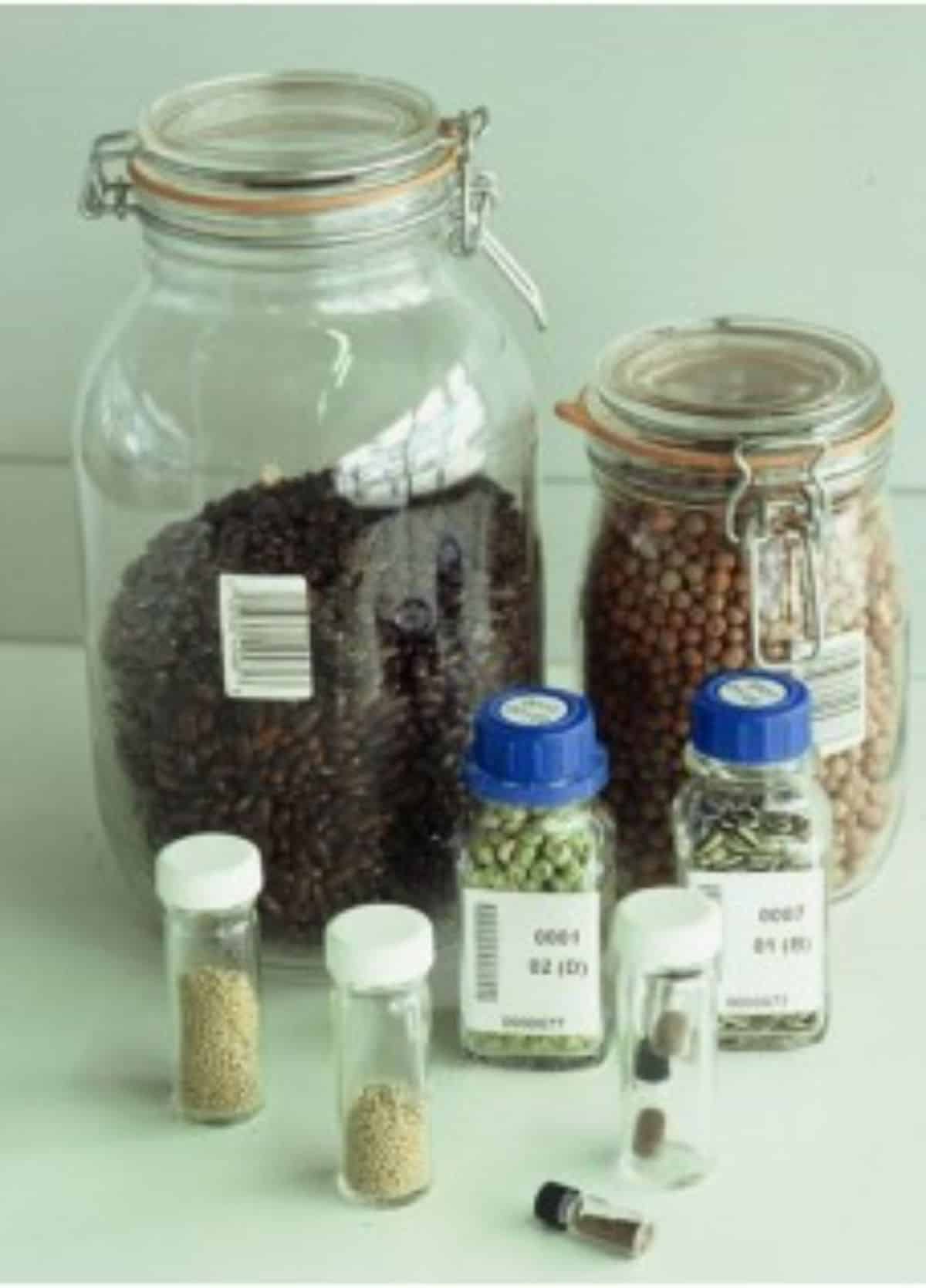 Glass jars come in a range of sizes, and they will keep your seeds protected with their leads. Also, they will give your kitchen a traditional aesthetic.
5. Mini Seed Paper Envelopes
Do you know that paper bags actually make reliable seed storage solutions? They are wonderful, especially if you are not sure whether the seeds are completely dry.
6. DIY Recycled Paper Envelopes
A lot of professional gardeners use newspapers and other recycled papers in the seed-drying process. You can easily fold them into envelopes for proper storage.
7. Pill Bottles
When we take medicines regularly, we sometimes don't realize that the bottles have piled up in our kitchen cabinets. If this happens to you, use them to keep your seeds!
Similar Project:  35 Power Tool Storage DIY Ideas and Products
8. Resealable Plastic Zip Bags
Storing your seeds in resealable plastic bags is a very cost-effective way to keep your precious seeds in their best condition. Just make sure you reseal the bag properly.
9. Baby Food Jars
Baby food jars are reusable, and they are tiny enough for you to stack them up in your kitchen drawer. You can also put silica gel packages in them.
10. Spice Jars
Do you know why spice jars make great seed storage solutions? They not only have tight caps but also have holes so you can sprinkle the seeds.
11. Mayonnaise Jars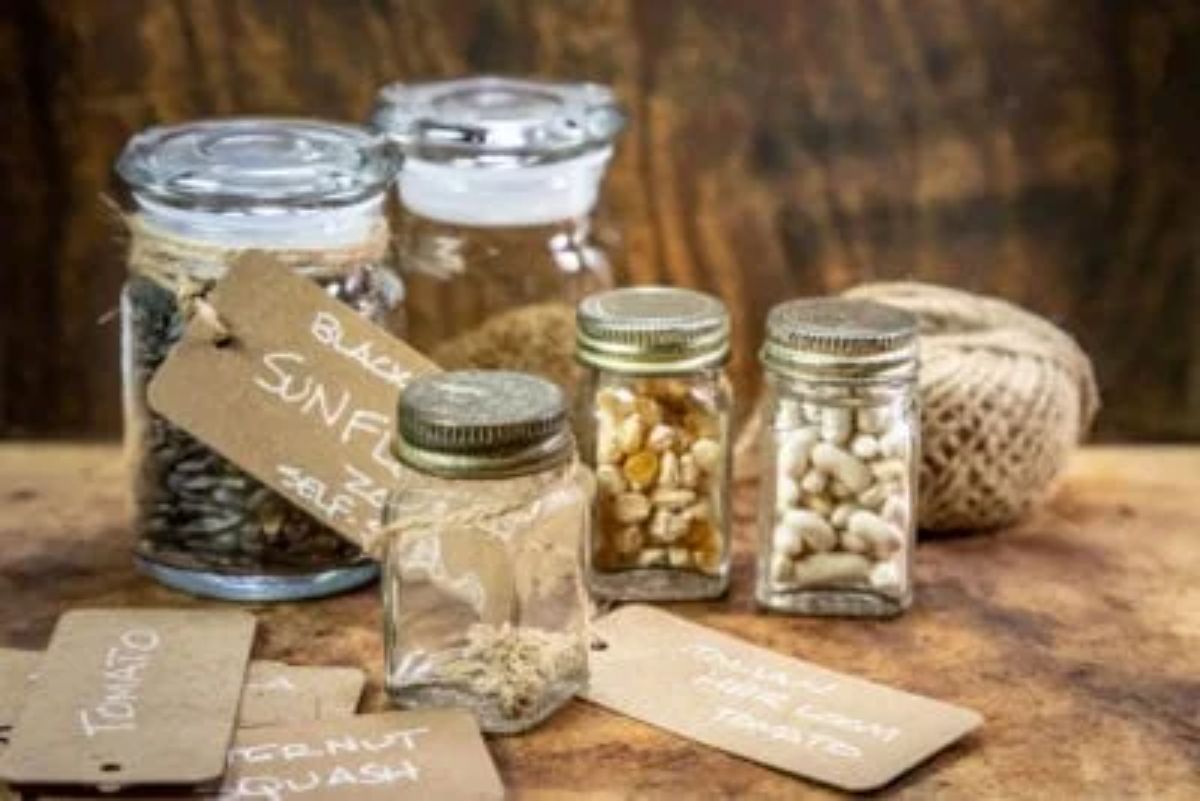 Mayonnaise jars come in plastic and glass, which are both durable materials that can withstand a lot of things. Also, they typically come in a 32-oz size.
12. Zipper Plastic Wallets
Similar to resealable plastic bags, zipper plastic wallets have a clear appearance and come in various versions. However, they have more durable materials and sealing capability.
13. Vacuum-Sealed Bags
This is the method to go to if you want to keep your seeds in their best condition. They will never be exposed to air and solid materials.
14. Business Card Box
A business card box isn't the first thing you might think of when you think about seed storage. However, this type of box is small enough to keep anywhere in your kitchen. Additionally, it allows you to separate your seeds alphabetically with its dividers.
Similar Project:  How to Upcycle a Cardboard Box Into a Gorgeous Storage Basket
15. Wooden Seed Box
If you want a rustic-looking seed storage solution to complement your country kitchen style, then you have to get this simple and practical wooden box.
16. Upcycled Shoe Boxes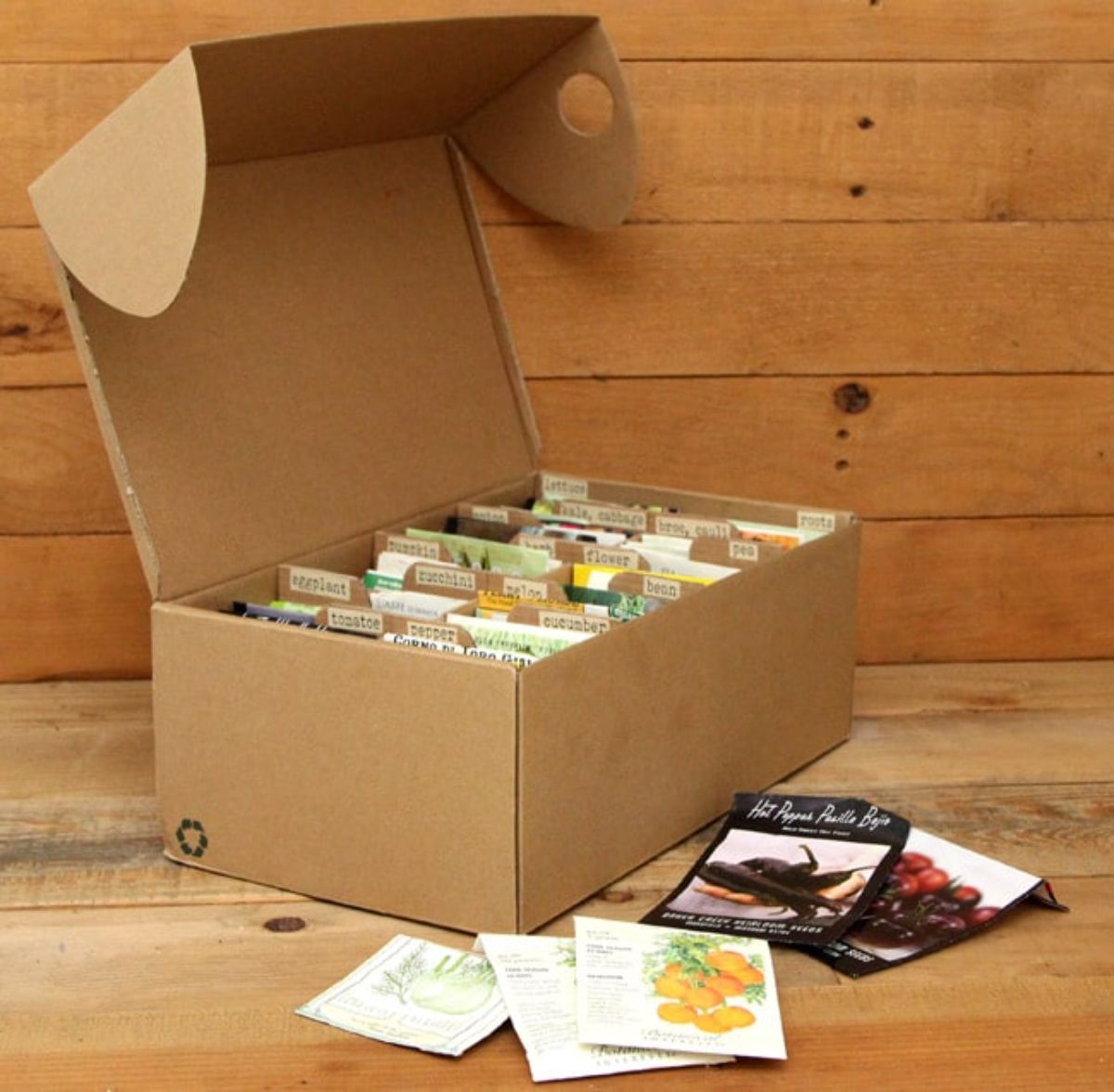 Buying box after box during your seed-collecting journey can become expensive over time. Luckily, you can upcycle your empty shoe box into a useful seed container.
17. Airtight Containers
Ask any grower, and they will tell you that airtight containers are the best way to keep your seeds. You want to avoid air and moisture as much as possible.
18. Baseball Card Sleeves
Baseball card sleeves have perfectly sized sections to keep your seeds. Also, if you have free time, you can spend some time observing each "seed" page.
19. CD Case
When it comes to keeping seed containers, a CD case works very similarly to a baseball card sleeve. However, due to the section size, you must keep the original container.
20. Photo Album
In addition to CD cases and baseball card sleeves, do you know what else works wonderfully for your seed-keeping journey? The answer is a photo album!
21. Filing Cabinet
If you have a habit of buying seeds in large quantities, then you should store those bulky packages in your filing cabinet. For easy sorting, don't forget to use labels.
Similar Project:  Decorative Clothespin Tin Can Planter or Organizer
22. Pill Dispenser Organizer Box
Pill boxes have a lot of compartments, and they are designed with easy access in mind. For this reason, they will also work fantastically as a seed storage solution.
23. Tea/Jewelry/Sugar Box as Seed Storage
Similar to pill organizers or business card holders, jewelry boxes often have a lot of compartments and sections. Still, you need to make sure to handle them with care because they rarely close tightly.
24. Wall-Mounted Spice Hanging Organizer
Wall hangers are the perfect and simple way to store your seeds if you are sure enough that they will withstand room temperature and any moisture level.
25. Storage Tins and Aluminum Can
You should not throw away your aluminum cans, especially if they come with a cap. For your information, big seed companies use aluminum containers by default.
26. Mason Jar Seed Storage
Using mason jars is one of the best ways to store seeds for the long term. Mason jars are airtight and prevent humidity from affecting your seeds.
27. Seed Binder
Do you have that craftsy side in you? If so, then you should make this seed binder whenever you have spare time to support your gardening hobby.